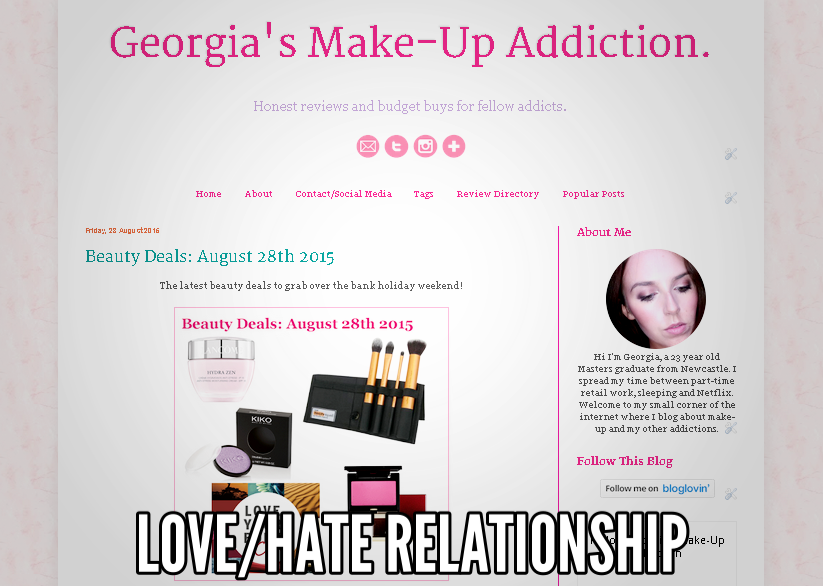 Time to get truthful. I've been blogging since 2012 when one day I just decided to set up a blog and join the beauty community that I loved. I spent most of my free time watching YouTube videos, reading blogs and researching beauty products so creating a blog was exciting. In my first couple of months I posted more times than I have in the last year. However when I started my Masters degree that became my main focus and suddenly spending my free time reading and writing wasn't my priority. Since then I've have spurts of inspiration for blogging but I'm always plagued by my negative feelings towards blogging, especially within the beauty and lifestyle community.
1. The blogging world is over-saturated: So many blogs, so little time. The amount of people writing their own blogs has made it harder for new or less popular bloggers to get noticed. Also as blogging is entering the mainstream, the bloggers who are recognised by large media companies and brands are gaining large amounts of new followers, therefore further separating them from less popular bloggers. Another point is if every reader is now participating, therefore blogging themselves, who is left to really read blogs?
2. Everyone wants promotion: Participation in other people's blogs/social media platforms mostly seem to link back to self-promotion, leading me to feel that is any interaction true interaction?
3. The benefits of blogging/YouTube: Since blogging and YouTube became mediums to make money, launch a business and become 'famous' or at least well-known online, many seem to be pursuing these platforms for the wrong reasons.

4. Competition and comparison: As I said before, there are countless beauty blogs so for a comparative person like myself that means there's a lot to compare myself to. Better writing, photography, design and content are everywhere. Also blogs with more followers, views and reader interaction may make you question your own efforts.

5. The blogging norm=the Instagram lifestyle: White furniture, fresh flowers, DSLR photography, minimalist design and clean eating... This isn't my life and to be honest, I can't be bothered to pretend and conform. I like colours and patterns in my blog design, I am definitely not a minimalist (more like a clutter-lover), I take my blogging photos on my phone and I'm partial to a beer, pizza and chocolate. Sorry not sorry.
The Good
1. Blogging is my creative output: I set up my blog to share my interest in beauty, which most of my friends did not have. Even if I don't have many followers, I still use this blog as platform to write about beauty and my other interests.
2. Community spirit: From my short time being active on Twitter, I've seen that the majority of beauty bloggers are genuine, kind people with a passion for what they write about the community they are part of.

3. Competition and comparison: A bit of competition never hurt anyone? Competition and comparison to others can help us to evaluate our work and strive to become better. My blog may have a low amount of followers but I won't let this hold me back. Negatively comparing myself to others is an unproductive waste of time!

4. Blogging for my benefit: All in all, I blog for my benefit. It's lovely to have readers, get good feedback on posts, retweets on Twitter and followers on Bloglovin but if I'm not blogging for my own enjoyment and benefit then it isn't worth it and I might as well spend my time doing something beneficial that I enjoy. I think this is why I find it easy to fall in and out of love with blogging, as I see it as a hobby. I also like to keep my posts high quality and informative by writing them when I feel inspired and enthusiastic, even if this lowers the amount of times I post.

What are your feelings on blogging and the blogging community?

Love Georgia xxx