I'm back from my holiday in sunny Ibiza (sad face) but I thought I'd share my pre-holiday routine. I've written this post with the preparation I did for my Ibiza beach/pool holiday in mind, however this could easily apply to any kind of holiday/event.
7 Days Before
Moisturise Body
I try to start this about a week before I go away, but I'm lazy when it comes to body moisturiser. My pre-holiday choice was the
E45 Intense Recovery Lotion
, as it always leaves my skin feeling deeply nourished without being irritated which is a problem if I've just shaved my legs. It does take a little while to soak in so it's not the best for quickness but okay if you have time to spare. I like to make sure my skin is properly hydrated before a holiday in the sun because I'll most probably be going between the sun and the pool, so it's easy for skin to dry out and get flaky.
2-3 Days Before
Face Hydration
I have dry/dehydrated prone skin, which if left without moisturising or exposed to the sun/pool etc. will get red and start to flake. When going on holiday I know my skin is also going to be exposed to air conditioning on the plane too, which is very drying, so I like to make sure my skin is hydrated by using a face mask. The two I have at the moment are the
Avene Soothing Moisture Mask
and
Body Shop Drops of Youth Bouncy Sleep Mask
. I already have a review on the Avene mask
here
where I describe it as overpriced but I'm still using it up. The Body Shop mask is a new product that I got as a sample with a strange bouncy, thick consistency that you wear overnight and wake up to hydrated skin.
Gel Nail Polish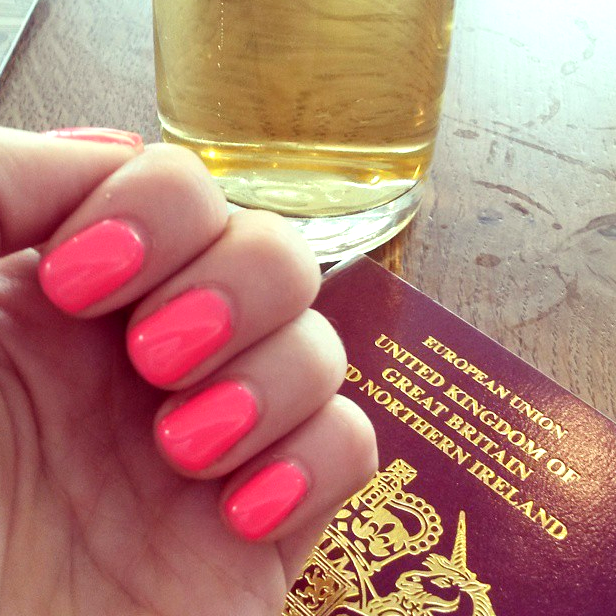 This was the second time I had gel polish applied and I'm so impressed. They lasted nearly 6 weeks and looked pretty much perfect. Also they looked especially great to say they had been exposed to high UV, heat and swimming, which typically contribute to my regular nail polishes melting, changing colour and chipping. If you've never had gel nail polish applied before I'd definitely recommend treating yourself before a holiday or big event.
1 Day Before
Eyebrow Pluck and Shape
Brows on fleek! I can't go anywhere without tweezers but it's nice to set aside some time to proper clean up your brows before a holiday. I trim mine regularly, following the natural shape, as they easily move out of place when the hairs are too long. Then once they are trimmed, I pluck away all the stray hairs and work on the overall shape. I tend to like my brows thicker in the front with a straight but defined arch. Once properly done they won't take much upkeep. I use
Tweezerman
brand tweezers, which although pricey are sharp and accurate.
Hair Mask
Just like the skin, hair deserves a treat before a week of sun, humidity and pool/sea water. Ojon Damage Reverse Restorative Hair Treatment Plus is a hard paste which softens to a oil that you apply and leave in for 20 minutes, or even overnight, before washing and conditioning as normal. It does have a oily consistency so definitely put your hair into a bun, wear a shower cap or protect your bedlinen if wearing in bed. I've previously written a review on this product here if you'd like to know more.
Shave
The 'big' shave before a holiday is standard and I use the
Gillette Venus Embrace Sensitive Blades
. These blades fit on any Venus razor and they are more expensive than the basic replacement blades, but they give a softer finish and don't irritate my skin.

These easy steps mean that I'm all prepared for a week of low-maintenance beauty. When I get back from holiday I try to keep up applying body lotion daily to stop my skin from peeling and would usually apply the face and hair masks again.

Love Georgia xxx