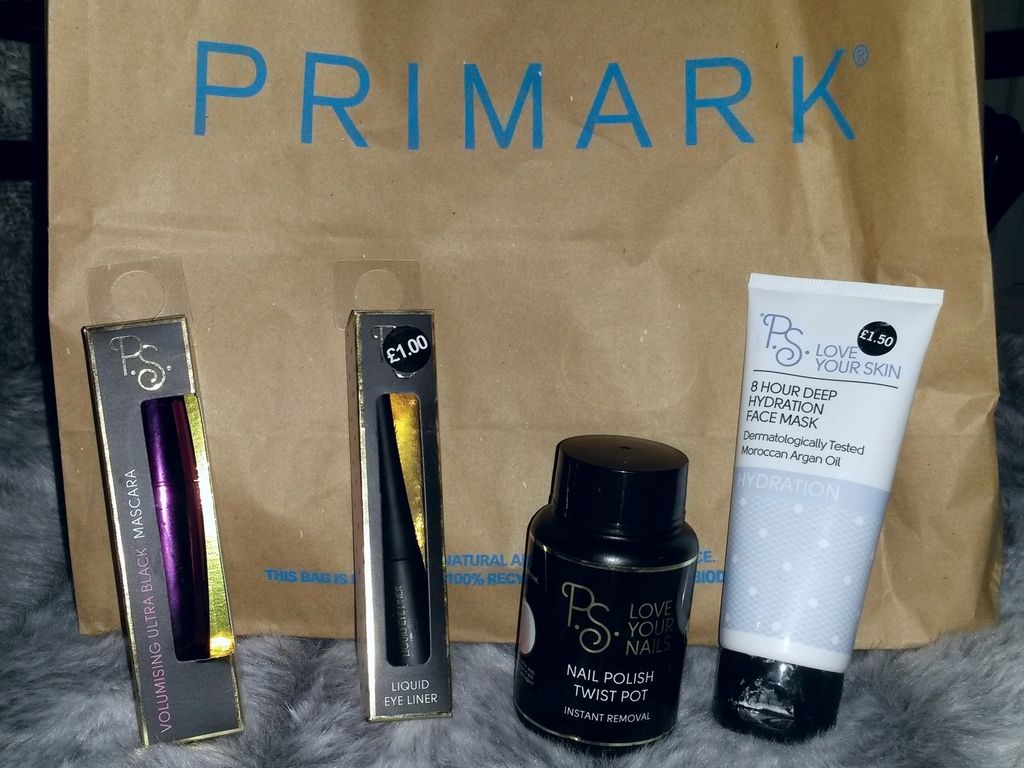 On my last visit to Primark I was struck by the size of their P.S. Love beauty section. What started as a few eyelashes, nails and accessories has grown to include all types of make-up, skincare, hair and general tools and accessories all for a low price. I thought I'd pick up a few interesting looking products and give them a go to see if I could find any essential budget buys. The amount of products which are only £1 prompt me to want to sing the
£1 Fish song
...
P.S. Love Volumising Ultra Black Mascara - £2
Lately I'm happy to take a chance on cheaper mascaras because some brands' mascaras are so expensive! For £2 I admit I wasn't expecting much but as it turns out... I love it! The brush and formula reminds me of Maybelline's The Rocket, providing volume, length and separation without clumping. I would say it lacks the staying power of Maybelline mascaras so not recommended if you have problems with watery eyes or needing to rub your eyes throughout the day as this may cause smudging; however for my everyday use, it's perfect. I'd definitely repurchase!
P.S. Love Liquid Eye Liner - £1
I picked this up as a total gamble, thinking it couldn't be any worse than the Collection one I tried a few weeks ago (review
here
). Luckily it lived up to that expectation and I'm really impressed. I'm not much of a liquid liner connoisseur but this applies easily with a thin brush, the formula is smooth and even and it doesn't flake off or smudge easily once dry. For someone like me who experiments with liquid liner once every so often or keeps it on hand to use after applying false lashes, there's no point in spending a fortune so a definite winner.
P.S. Love Your Skin - 8 Hour Deep Hydration Face Mask - £1.50
Primark got me with their displaying products within the queue technique with this one. I was drawn to the hydrating claims and the £1.50 price tag and after a quick skim of the ingredients I didn't spy anything too alarming so in the basket it went. The product is a thick cream with a strong scent of ginger, lavender and orange. When I first applied it I felt my skin tingle as if it was irritated which is alarming from a hydrating mask, and on further inspection of the ingredients I found the plant/fruit oils are known irritants. I dubiously left it on for the 5-10 minutes and wasn't left with any redness but also my skin didn't feel any softer or look hydrated.
I've used it multiple times now and seen no difference so I don't know if the good ingredients like aloe and argan oil are countered by the harsher oils. I wouldn't repurchase because I don't think it delivers on hydrating the skin but I have not been deterred from trying more from their Love Your Skin range. In future I'll be more careful to check the ingredients online before purchasing and
Paula's Choice Ingredients Directory
is a good online resource for this.
P.S. Love Your Nails - Nail Polish Twist Pot - £1
I used to be a big fan of the Bourjois Magic Nail Polish Remover thing but not so much a fan of the price so I couldn't resist trying this for only £1. The idea is the same, a pot containing nail polish remover soaked foam so that a quick dip and swizzle will instantly remove nail polish. Sadly it doesn't work as well as the Bourjois one; the foam seems flimsy and doesn't create the friction needed to properly remove tougher nail polish. I've tried a better one from Superdrug by
Pretty Quik
which is only £2.99 but maybe worth a try if you're new to the idea.
TheSparkleicious on YouTube made a good video on her first impressions of Primark beauty products so check that out below as she reviewed more of the make-up products:
Have you tried anything from the Primark P.S. Love beauty range?

I'll be returning soon to see what other bargains I can find.

Georgia xxx