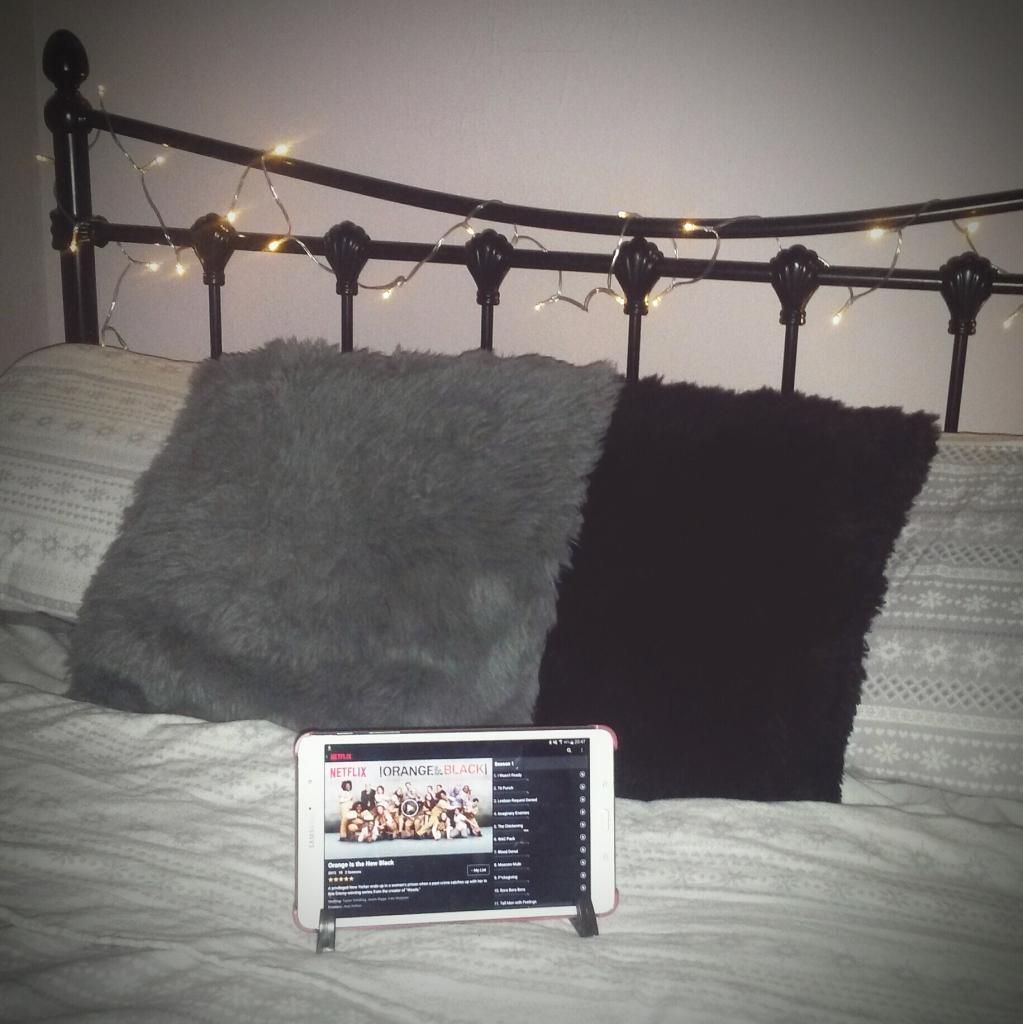 I signed up for the 30 day Netflix trial a few years ago when it was first advertised on television but decided to cancel within the trial as I wasn't interested in their film or television selection. Recently I signed up again for the free trial because I was interested in watching the last couple of series of Breaking Bad and also seeing if the hype was true about Orange is the New Black. Since then I've been hooked by how easy it is to watch on my tablet (a Samsung Galaxy TabPRO 8.4).
Pros
Free trial - emphasis on FREE! 30 days of full access with no obligation to stay subscribed so make sure to cancel after 30 days if you don't want to be charged.
£5.99 a month or £6.99 to be able to stream from the same account on two devices at the same time so perfect if you want to share the account with others who will be using the service simultaneously.
Netflix will remember which episodes you have watched and your place if you've paused mid-episode, same with films. Also it'll automatically start the next available episode or series when the current one finishes but this can lead to extra time spent being unproductive...
Media can be streamed either on a regular laptop or PC through an internet browser or on a portable device (both IOS and Android are supported) using the Netflix app. The portability through watching on my tablet means that I can watch in bed, in the bath, when I'm getting ready etc. and means that if I'm in the house or in a place with WIFI I can view anywhere. Virgin Media Tivo boxes also have the Netflix app which removes the need for a HDMI cable to view through my main television.
Once you start rating or watching the available TV programmes or films you'll start to receive recommendations. Also you can add programmes or films to your watch list to watch later.
New series and films are added frequently and you can always try out a series or film without committing to purchase them.
Cons
Although the library is updated regularly, you'd be disappointed if you were looking to watch the newest films or television series. For me it's great because I haven't seen that many films that would be counted as 'classics' and have a long list of ones I've been meaning to see for years. Also there's a lot of documentaries, niche films, Netflix exclusive series and programmes that aren't on television in the UK.
Some of the series of Channel 4 original shows are available to watch on their 4OD service so if you're interested in watching I.T Crowd or The Inbetweeners for example, which I would both enthusiastically recommend, you can watch all the episodes for free and without a subscription.
Current Must Watch Films and TV Shows
Orange is The New Black
- Television programme about a women's prison which really draws you in from the start with truly interesting and intriguing characters. I watched the first two series within a week a few months ago and just did the same again recently. I can't wait for the new series later in 2015 but until then there's plenty of time to catch up.
credit - logotv.com
RuPaul's Drag Race
- Described as "one part America's Next Top Model and two parts fabulous", where drag queens fight and perform to be crowned The Next Drag Superstar. With plenty of bitchy reality TV elements thrown in alongside amazing costumes and performances, Drag Race is perfect escape television.
Hunger Games: Catching Fire - I'd already seen this in the cinema but it is a truly epic film, although the original Hunger Games sadly isn't available to stream if you're new to the franchise.


Currently On My Watch List
Sherlock - I totally missed the hype on this show and fancy giving it a try at some point.
The Hobbit - I tried watching the Lord of the Rings films when they first were released but never saw the pull so I may try again with this series of prequels.

24 - With the many series of this show I'm sure I'll be entertained for hours
Also this is in no way a sponsored post! I just fancied sharing the Netflix love. Who knows how long I'll remain subscribed for but for now I believe it's worth the money or even worth a try for free! I'll also be adding my updated Netflix additions to each monthly/recent favourites post so feel free to share yours.
Free trials are available
here
for UK residents.
Do you have Netflix? I'd be grateful for any recommendations for television programmes or films to watch?
Love Georgia xxx