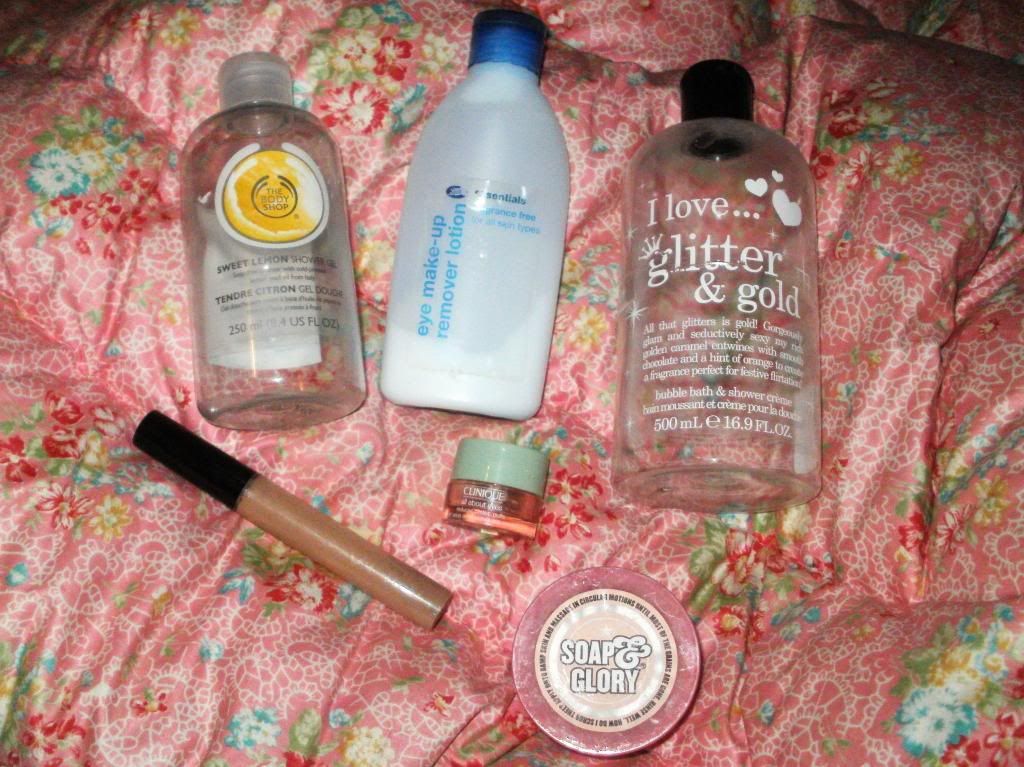 I'm still working my way through a backlog of empties.
Body Shop Sweet Lemon Shower Gel - Link
I bought this as a little post dissertation hand-in present to myself, as mentioned in
this
post. It smells like sweet lemon (obviously) so not as fresh as some lemon scents but it did me well over the summer. Body Shop shower gels are typically£4 for 250ml which is a little bit pricier than some shower gels you'll find in shops like Boots but it'll not break the bank if you fancy a little treat. The Body Shop also constantly has offers on so it's worth taking advantage if you love their products or want to stock up for Christmas presents. The Sweet Lemon scent is showing up as out of stock currently on The Body Shop's website so it may be worth asking in-store if you're interested as the shops may still have excess stock to sell.
Boots Essentials Eye Make-Up Remover Lotion - Link
Technically not an empty but I tried and failed to use this up! The formula is a lotion that I'd apply onto a cotton pad then press gently over my eyes to loosen the make up and wipe off; sounds good but I'd always end up with the lotion in my eye causing my vision to go blurry for a couple of minutes and my eyes to burn. To use it I'd have to use a small amount and work into the cotton pad but my eyes would still feel sore after using so I'm happy to finally bin it.
I Love... Glitter & Gold - Superdrug
A lovely buy from last Christmas which I finished ages ago but I found it in my backlog of empties and remembered how much I loved it. I'm happy to have spotted that this caramel scented, glittery bubble bath is back on Superdrug's website in a gift set with other products in the same yummy scent (
link
if you're interested). The I Love... range is so reasonable with their bath and shower crèmes only £2.99 for 500mls so I'd happily try other scents in the future.
MUA Mascara in Clear - Link
I use this everyday to set my brows so that explains the strange colour firstly. For a £1 it does ok and I did end up buying a replacement for this one but I'm on the look out for something better as I don't find this sets enough to keep my brows in place. I need a brow gel to stop hairs moving around more instead of keeping on product, as I hardly ever fill in my brows.
Clinique All About Eyes - Link
I got this as a sample in Glamour magazine a couple of years ago as I needed an eye cream and I really liked it. The texture is somewhere between and gel and a cream meaning that you hardly need any product and it doesn't feel thick or heavy. Downside is the price as the 15ml size is £25 and the 30ml is £40 and I'm way to stingy to spend that on an eye cream when the product does not boast any extra benefits and I can use my everyday moisturiser instead. I would love to find a cheaper alternative though.
Soap and Glory Flake Away (Travel Size) - Link
I always seem to have a little pot of this or the Righteous Butter hanging around as they come in nearly every Soap and Glory giftset. The smell is good enough to eat with peach seed powder, shea butter and sweet almond oil but I'm so lazy with exfoliating so one of these travel sizes lasts me months but I'm sure as winter brings dry patches I'm going to be scrubbing away.
Click
here
for my first empties post.
Love Georgia xxx