On first sight I thought
Nip + Fab's new CC range
of products sounded amazing, claiming to moisturise while giving good coverage. Also the CC (colour corrector) formula claims to improve on the original BB idea of skincare and base combined by correcting any discolouration, redness or dark circles.
Claims:
-Hyaluronic Acid and Oat Extracts for Moisturisation and Smoothing
-Light Diffusing Pigments
-SPF 30
-Colour Correcting
-Shine Free
-Smooth Application
Like most BB/CC creams, this is best applied with fingers to really blend ir into the skin but I still couldn't get this to work for me. The formula feels similar to other BB creams and foundations but then thickens and stiffens up once applied to the skin making it impossible to blend. My skin type is dry/dehydrated with some normal patches, however I've been keeping it under control with a
new skincare routine
so it shouldn't be too much of a problem for a '
hydrating CC cream
'. The formula felt drying on my skin and clung to existing dry patches and highlighted dryness I didn't even know I had so badly that I wouldn't feel comfortable wearing while wearing this. I found the formula of the CC cream similar to the
Rimmel BB Cream
(
review
), which also seemed to sit on top of my skin and wouldn't blend, although I would prefer to use the Rimmel BB.
The colour also doesn't match well with my skin, even though it was the lightest shade. The undertone is too pink/peach so I looked sunburnt when I wore this and any drier patches dried to a lovely shade of orange. I also received the Dark shade to mix to get my perfect colour but I didn't need it as the Light shade wasn't all that light! The formula is quite thick for a BB type cream and it covers redness and other imperfections well but it dries to a heavy, matte finish which doesn't look natural on my skin. I know my friend uses BB creams as bases underneath her foundation to keep away oil or to build coverage but I personally couldn't do that with this product, however someone with oilier skin may find that works great for them.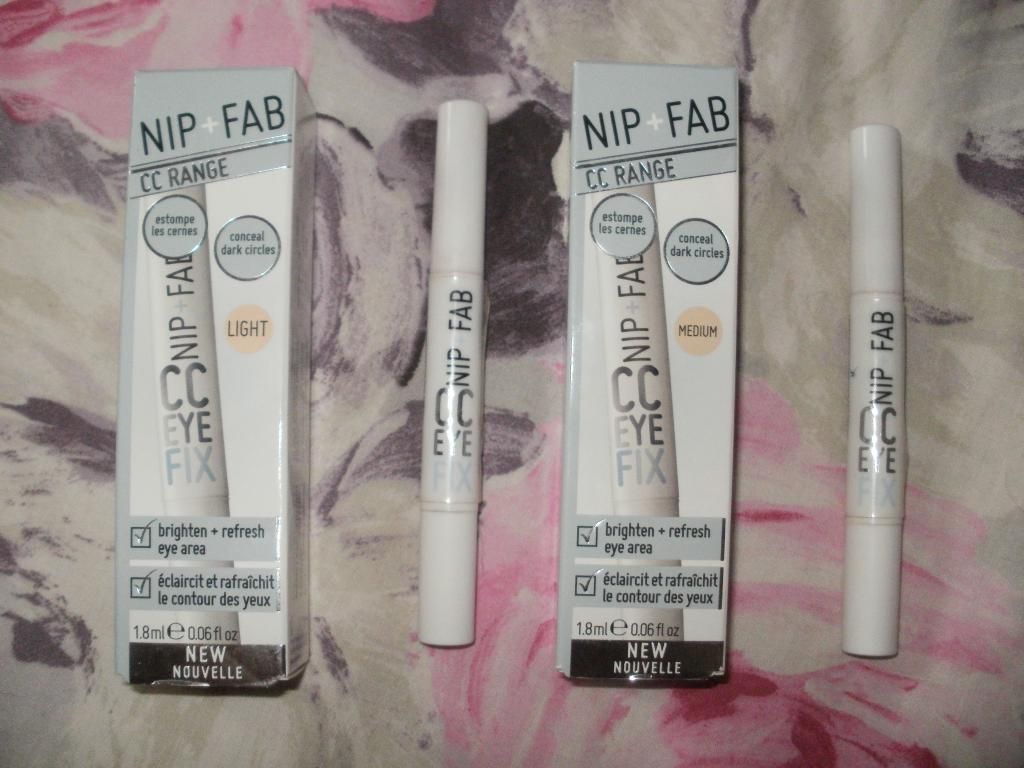 Onto the
CC Eye Fix
which again sounded like an instant winner to hydrate and brighten my under-eye area, whilst covering dark circles. The product itself is similar to other highlighting/under-eye concealer products, which are usually a little cheaper and give better coverage and highlighting. This doesn't do much to camouflage my dark circles but may be more suited to someone who needs their under-eye area brightening and moisturising more than covering. Of the two shades I prefer the Light shade, as it does bring some light to my under-eye area and cupids bow, but I was disappointed that the medium shade was beige toned instead of more peach/orange toned to counteract blue/purple dark circles.
Overall I'm not too impressed with this range, especially as the prices are quite high however the products may suit others with different skin types/needs better.
Nip + Fab CC Cream - Boots - £14.99
Nip + Fab CC Eye Fix - Boots - £9.95
Love Georgia xxx
*DISCLAIMER: I received these products as I am part of the Boots product testing panel. Some products are sent for me to try as they fit the profile I have given, and others I can apply to try. Boots receive these products from brands that are available or about to be available in Boots stores so for the panel members to try and review on Boots.com. Panel members do not receive financial compensation or incentives for reviewing the products online. I have chosen to share these products on my blog as I feel the reviews for products I post on Boots.com would be relevant for readers of this blog. I started product testing for Boots before I started my blog. Being sent a product for free doesn't change my opinion of it or of the brand. I was asked to join the testing panel after I posted a number of reviews on Boots.com.