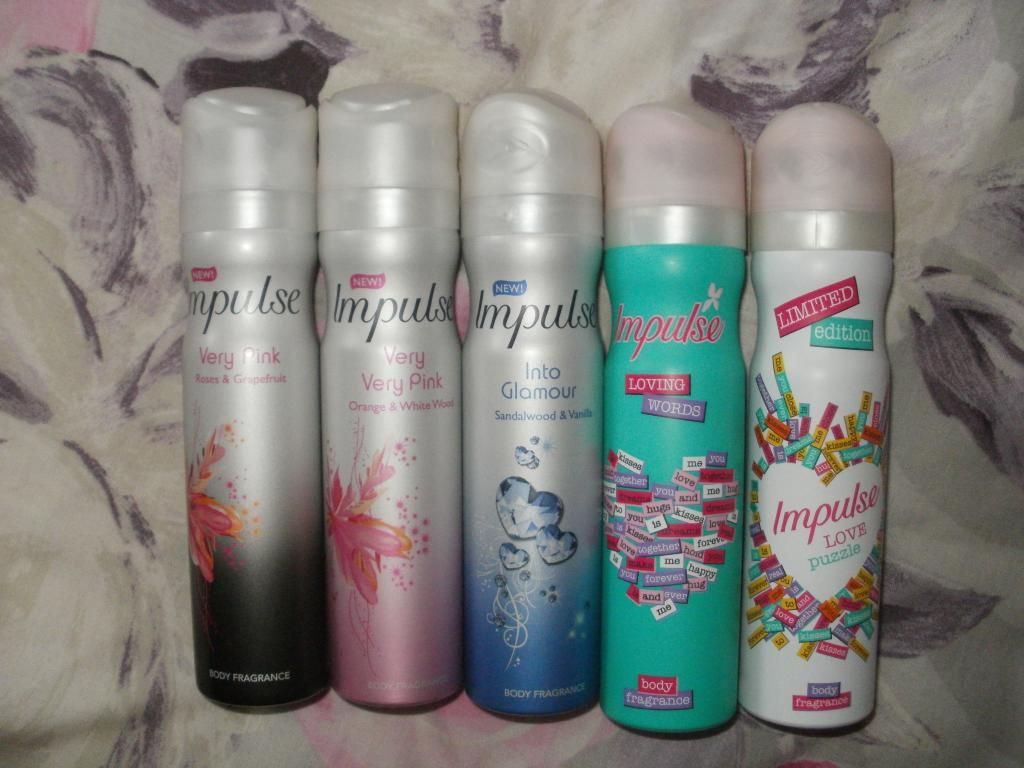 Stock up when 99p or 3 for 2, which is most of the time if you shop around. Great for popping into bag for school, uni, gym, beach, nights out as they're lighter and less likely to break than perfume bottles. The fact that they're always on offer also makes it more tempting to try out the other scents! If some of the scents smell similar to popular perfumes from well known brands it may be because Impulse scents are developed by
Ann Gottlieb
, who has created perfumes for Calvin Klein and Marc Jacobs.
Grapefruit, Vanilla, Roses and Red Berries
Girly and sexy; smells similar to CKIN2U because of the grapefruit notes.. I've repurchased this many times in the last couple of years because I love the scent so much. It's sometimes packaged with a Barry M lipgloss which is also nice and smells similar to the bodyspray.
Warm, musky and slightly masculine - love, love love! I'd love to find a perfume/aftershave which smells similar to this because it's one of my favourite scents to wear, especially in the summer. Might not be to everyone's taste but I'd recommend having a sniff if you don't like scents which are really sweet or fruity.
Sandalwood and Vanilla
My newest purchase. The scent isn't overly complicated but is sweet and warm with a mix of vanilla and sandalwood (two of my favourite scents). I remember when The Saturdays used to advertise this a long time ago (
video here
), Una looks so fierce!
Floral and fruity
Both Loving Words and Love Puzzle were impulse (haha get it?) buys but I've never warmed to them as they smell too floral for my liking, possibly because they containing gardenia scent. I prefer Loving Words as it's fruitier and Love Puzzle smells sharper but they're both very similar. I've had these for over a year and only used them once or twice so I think it's time to find them a new home with one of my friends.


The scent of these body sprays or 'body fragrances' aren't really long lasting so I wouldn't expect the same staying powder as a strong EDP, however some perfumes especially EDTs are disappointing in how long they last on the skin. If sprayed directly onto the wrists these last 2-3 hours but I usually use these as an all-over spray. I typically use these on really casual days when I'm leaving the house to walk the dog or I don't want to wear a strong smelling perfume because I'm going to be travelling for a long time in the car for example. I use to top-up if I apply a similar perfume in the morning but I don't want to carry the large or heavy bottle around.
Love Georgia xxx