My skin has always been mostly normal with dry/flaky patches on my nose and in between my eyebrows but at the beginning of this year I noticed it had worsened. The dry patches were worse in the usual places and some were emerging in random places like around my mouth and combined with my skin instantly absorbing all the moisture out of foundations when first applied, my skin looked awful. After trying a couple of solutions for eczema on my face and having no luck, I decided to overhaul my skincare routine. I started by not exfoliating my skin so I wouldn't irritate or flake my skin while it was repairing itself. I also introduced some new products to help hydrated and moisturise my skin while keeping it clear and clean.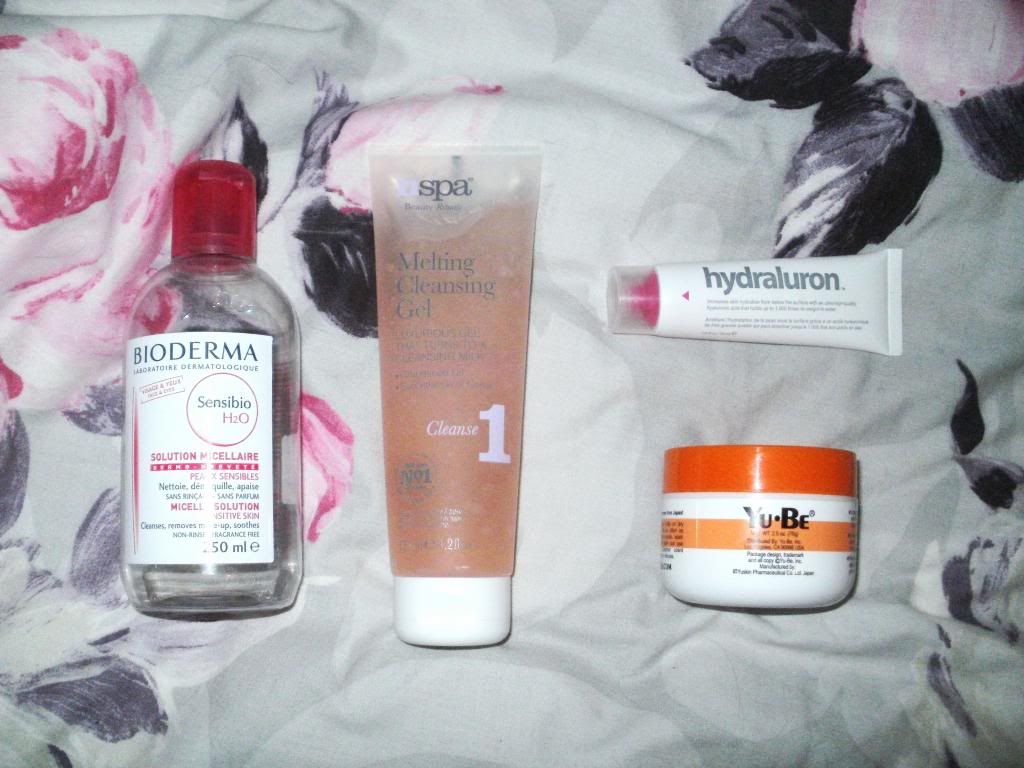 Bioderma Sensibio H20 - Micelle Solution - Escentual - £9.99
I had to try the famous Bioderma after hearing so many good things and seeing the many emerging similar cleansing waters. Bioderma is a make up remover and cleanser which emulsifies make up and removes dirt easily without the need for rinsing. I use a small amount of Bioderma on a cotton pad to remove my make up before using a typical wash off cleanser but if I'm feeling lazy (or a bit worse for wear) I'll repeat until all make up is removed. I can understand why some may feel underwhelmed by Bioderma after all the hype but it doesn't claim to revolutionise your skin. I included it in this post because it's very easy to use and gentle at removing make up so it's perfect for most skin types but especially drier or more sensitive skin. After this bottle is finished I'm going to experiment with other similar products to see what else is available and possibly at a cheaper price but I would definitely buy this again.
N Spa Melting Cleansing Gel - Asda Stores or
Asda Online
- £6
I've already gone through a small size of this
which I got in
this gift set
for Christmas and
I actually missed using this before I bought the full size
. This is an interesting product as it starts out as a
gel with an oily texture, which increases when massaged in, and then changes to a cleansing milk when rinsed with water
. Even after rinsing my skin still feels
really soft and hydrated
.
I use this after Bioderma
if I'm wearing make up so I don't have to double cleanse. I love how affordable this is at
£6 a bottle or the range is typically two for £8
! The formula and the scent of
neroli
makes this feel like a
luxury spa product
and
if I had blind tested this I would've thought it was a lot pricier
.
Hydraluron - Boots - £24.99
After reading many reviews of Hydraluron I realised that my skin was dehydrated. Hydraluron is pure concentrated hydralonic acid, which naturally occurs in the skin and helps hold on moisture. By using this product as a serum before a moisturiser, it supposedly helps the skin absorb the moisturiser better so it's not meant to be used alone. Since using this my skin has definitely looked more hydrated especially when I'm wearing foundation. It may be pricey but one tube should last a while if you use a pea sized amount daily. The real test will come when I finish this tube, to see if my skin really misses Hydraluron and if it's a daily essential.
Yu-Be Moisturising Skin Cream* - Boots - £19.50
This product is really popular in Japan and has only recently been stocked in Boots. When I was sent this I was excited to see if it lived up to its claims. On first use it's a strange product: smells a bit like Vicks Vapour Rub and feels thick and greasy like Vaseline. For the last three months I've used this as a night time face moisturiser and my skin has felt more plump, moisturised and less sensitive. I would think that a cream like this would be too heavy for everyday use on my face but I haven't had any adverse effects. The greasy formula also means that this doesn't instantly absorb into your skin so it's not the best to use under make-up unless you have really dry patches but I love that a couple of hours later I can still feel the moisturiser on my skin. If you don't have really dry skin you could use this on smaller areas on the body as well as the face that need repairing or hydrating. I've also found it works great on my lips so I slather some on before bed when I'm applying to my face and wake up with plumper, soothed lips.
If anyone has any recommendations for dry/dehydrated skin or something which works amazing for them then please leave it as a comment.
Love Georgia xxx
(Smugly written from my garden in sunny Newcastle)
*DISCLAIMER: I received these products as I am part of the Boots product testing panel. Some products are sent for me to try as they fit the profile I have given, and others I can apply to try. Boots receive these products from brands that are available or about to be available in Boots stores so for the panel members to try and review on Boots.com. Panel members do not receive financial compensation or incentives for reviewing the products online. I have chosen to share these products on my blog as I feel the reviews for products I post on Boots.com would be relevant for readers of this blog. I started product testing for Boots before I started my blog. Being sent a product for free doesn't change my opinion of it or of the brand. I was asked to join the testing panel after I posted a number of reviews on Boots.com.