After a dull morning at uni my friend wanted to take a short-cut through Boots to see if they had the new Revlon Lip Butter shades; they didn't. But even better was the surprise and exhilaration I felt when I spotted a stand of Sinful Colors nail polishes for the bargain price of £1.99! Before this I had quickly looked at the usual make up stands but had to walk away when I saw Boots were having a massive 3 for 2 but I thought it would be wrong to resist Sinful Colors, who I've heard about online from American YouTubers and Bloggers.
The colours I chose were Be Happy, Easy Going and Cinderella. Boots in Eldon Square Newcastle had two large stands and even though they'd only been released that morning I think, there were already some shades out of stock. I can tell these are going to be my new favourite treat as for £1.99 they have a range of cream, metallic and glitter formulas in so many different colours.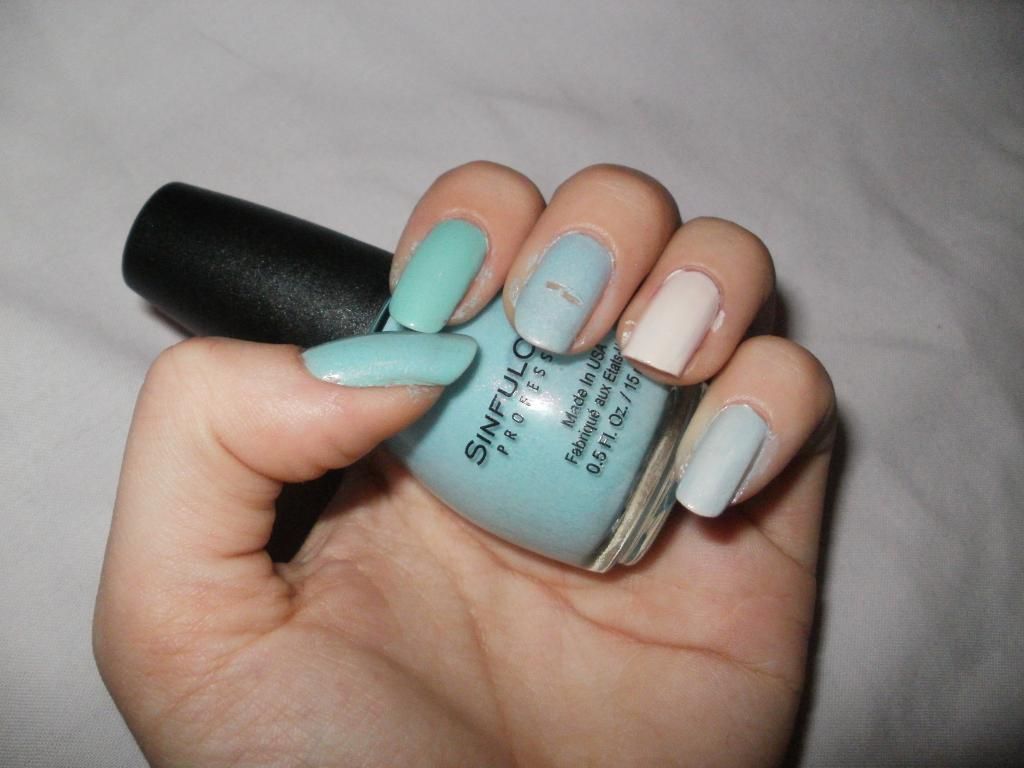 Apologies for the quick, messy swatches
Left to right: Be Happy with Cinderella, Be happy, Cinderella, Easy Going, Easy Going with Cinderella
I applied them all quickly to see what they looked like on before choosing a one to wear properly on my nails. They applied well and I found the formula similar to Models Own, I just had to make sure I wiped the excess off on the rim as the brush picks up a lot of polish. The shape of the brush was easy to work with and in two coats both of the cream shades looked opaque and even. The sheerer, shimmer colour Cinderella was ok at two thick coats but didn't set properly and consequently chipped, but three thinner coats worked better. As shown in the image above, I did try it over the other two colours which gave it more opacity and a different look.
Easy Going: Pale, pink cream finish. Great for people who like their pale, pastel nail polishes to be opaque as opposed to sheerer. May look harsh on darker/more tanned skintones though if you don't want a stark, light nail.
Be Happy: Mint green, cream finish. Similar to Barry M Mint Green but applies so much better!


I decided to wear
Cinderella
on my nails because it was so unique;
a pale, sheer blue
with an
iridescent pink and gold shimmer
. The name's understandable as this is
similar to shade of Cinderella's dress in the Disney film.
Sinful Colors Nail Enamel in Be Happy and Easy Going - Boots - £1.99
Sinful Colours Shimmer Nail Enamel in Cinderella - Boots - £1.99
Or see the full range of finishes at
Boots
These are on 3 for 2 mix and match with other cosmetic and haircare products at the moment and I bought them with my advantage card points so double win!
I really wanted to call these polishes Sinful Colours with the UK spelling but I've resisted!
Love Georgia xxx