This is without a doubt the best value eyeshadow trio you can buy. For £2.50 you get 3 gorgeous metallic shades which can be worn separately or together in different combinations to get a different look. I've had this for ages now and I always go back to it for daytime or night-time looks.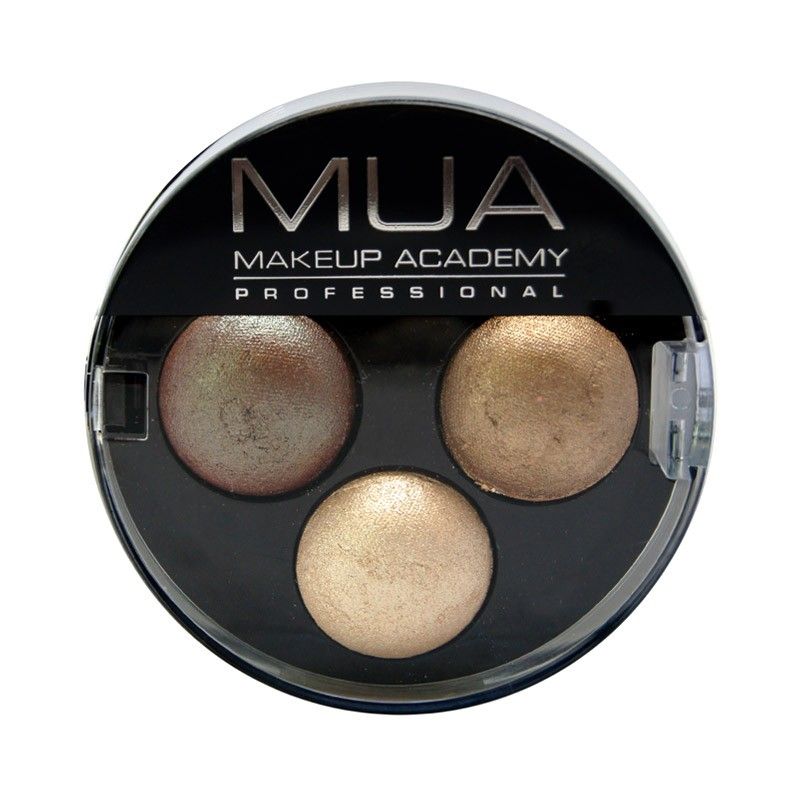 I'd compare the finish and formula of these to metallic shades in Sleek palettes. They apply smoothly with a shiny, metallic finish, as if you've used a wet brush, so it would be really easy for beginners to get the perfect smoky look. I wouldn't have expect baked eye shadows to apply so softly and with so much pigmentation because they're typically quite hard to apply and dry in texture. If you're a fan of matte shadows or ones with a slight sheen, these probably aren't for you though as they definitely bring the shimmer!
Like with any type of eyeshadow, I always apply Urban Decay Primer Potion underneath to stop my oily eyelids creasing any eyeshadow. I find they last the normal amount of time on me without creasing, around 6-8 hours.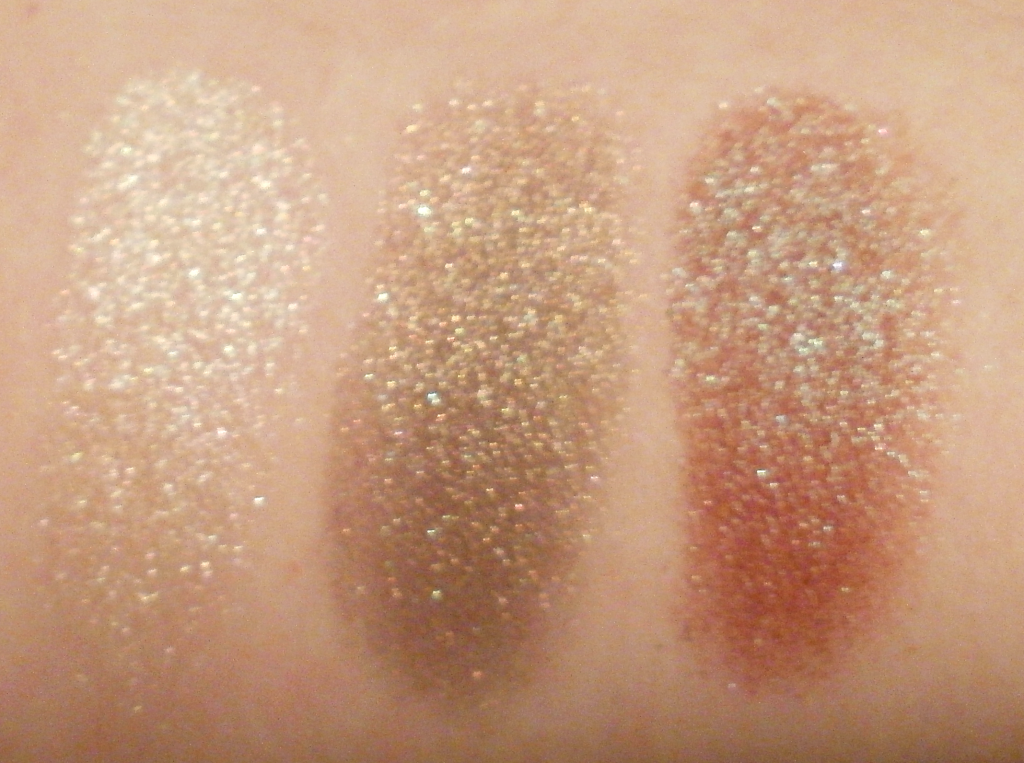 The lightest shade is a
champagne
colour, which is always useful to have for
highlighting
and also as an easy all over lid colour. These eye shadows are super shimmery so I wouldn't use as an under eyebrow highlight unless I wanted a really dramatic look. MUA also do a similar single eyeshadow shade for
£1
called '
Shade 1
'.
The middle shade is a lovely
gold
which
isn't too warm or too cool toned
so should
suit most skintones
. I'd heard that this is similar to
Mac eyeshadow in Patina
but I can't confirm that as I don't own it.
The darkest shade is a
red toned brown
with a
green duo-chrome
, which I've heard is similar to/a possible dupe of
MAC eyeshadow in Club
. I'm pretty sure this is the same or similar to one of the MUA single shadows,
Shade 12
I think, if you just wanted this one colour.
I thought I'd demonstrate how this trio can be used in
different ways to get three different looks
. Not too shabby for
£2.50
!
These photos make the lighter two shades look really sheer, unfortunately my camera sees shimmery eyeshadows and goes 'ooh shiny!'. Also I was experimenting with the lighting and camera settings but I think I may have finally mastered them *fingers crossed*
This is the kind of look I wear daily now, if I'm wearing eyeshadow at all. A light lid using the lightest shade with the darkest shade smudged into the lashes and blended slightly upwards. I also used a mixture of the middle and darkest shades on the bottom lash line but that's not necessary if you don't want a smoky look.
Next is the middle shade all over with the darker shade added into the crease for warmth and definition. I also used the darkest shade underneath and the lightest shade in the inner corner and added gel liner on the top lashline, waterline and tightline.
Finally I used the darkest shade all over and underneath the eyes with the lightest colour in the inner corner and added eyeliner again. This is a great one for all eye colours as the darkest colour is so complex that it brings out all eye shades.
For these looks I also used:
Maybelline Gel Eyeliner in Brown
Maybelline The Falsies Mascara