When the going gets tough, the tough go to Boots and buy things they don't need. It's also totally socially acceptable to go to Wetherspoons and demolish a burger, chips and onion rings with a pint of cider on a Friday lunchtime instead of getting on with some work. I think I'll miss this part of the student lifestyle when I graduate.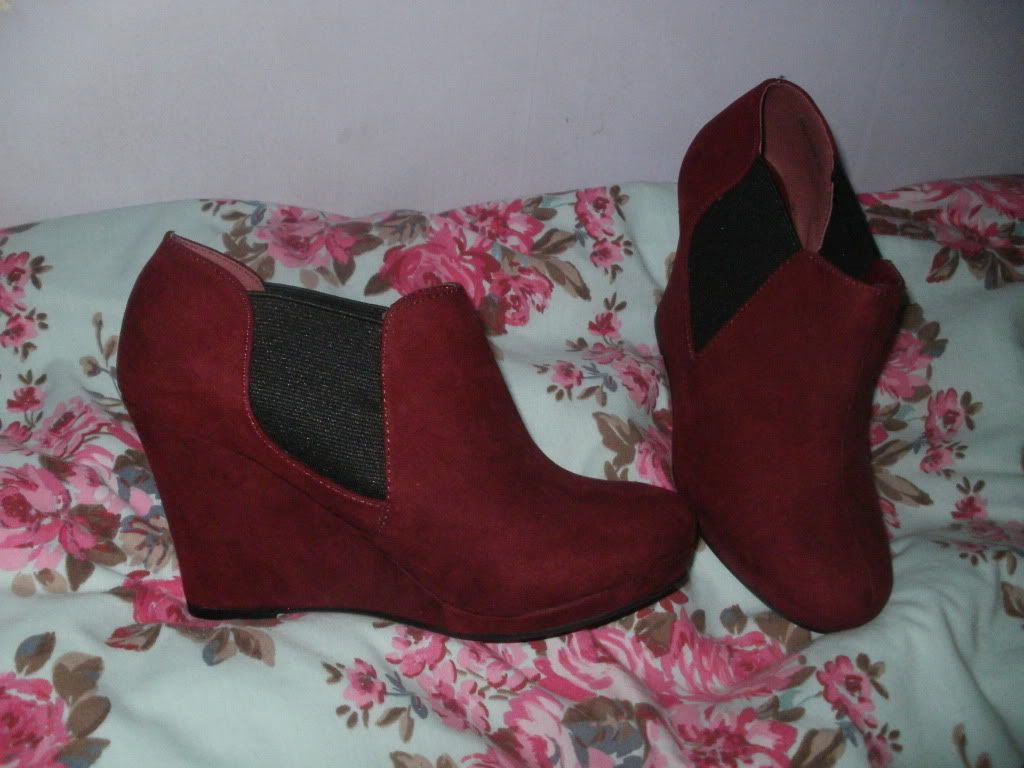 Deep Red Suedette Chelsea Wedges - New Look - £15
I couldn't resist these as they were on promotion for £15 instead of £22.99! I'm a real wimp when it comes to shoes (or standing up for any length of time in general) so I can be quite picky with heels. These felt like they shouldn't be too painful because of the mid-high wedge paired with the added support you get from more boot type shoes. If I was on TOWIE or Made in Chelsea these would totes be daytime shoes yah! Unfortunately I bought these in store about a week and a half ago and they're now sold out online but they might still be in stores.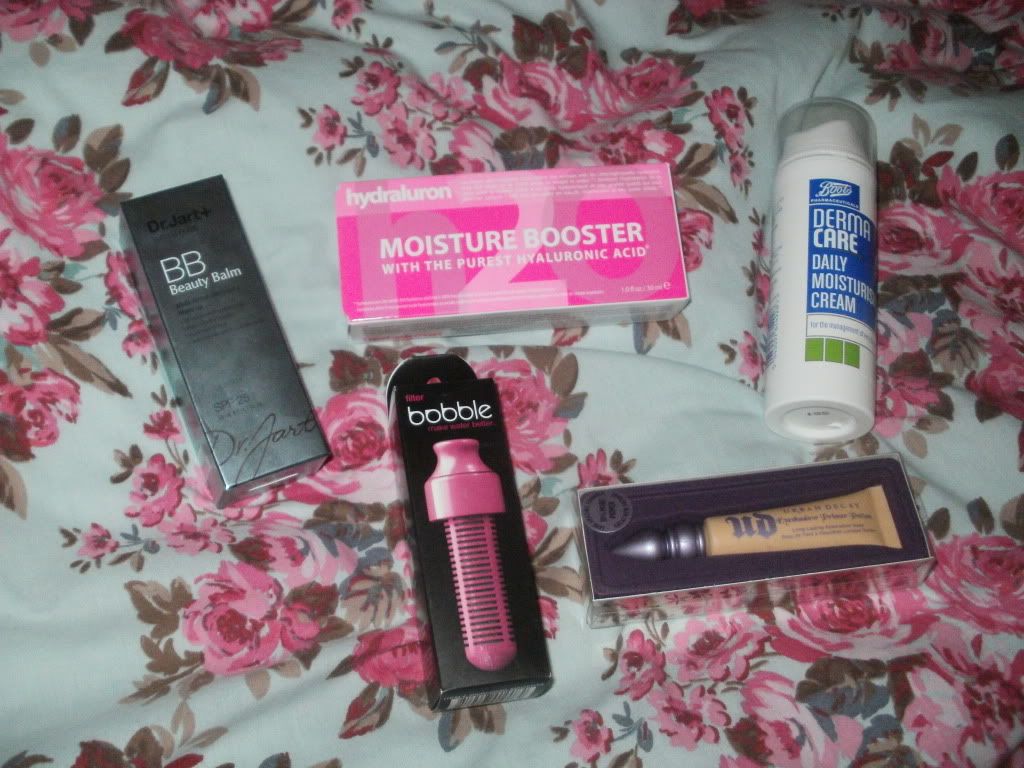 Hydraluron - Boots - £24.99
After reading great reviews of this and realising that the problems I'd been having with my skin was because it was dehydrated rather than severely dry, I decided to give it a go. Having a gift card from Christmas definitely softened the blow (surprisingly it took me a whole month to use it!) because the price is quite steep but I'd gotten to the point where I felt like nothing I tried worked.
The science behind Hydraluron is that it a serum which contains pure hyaluronic acid which it claims helps lock in moisture so your skin isn't losing moisture due to the weather and any moisturiser you use on top will get a boost. So far, so good with this actually. The flaky skin on my nose which has looked terrible and flaky for ages has definitely improved so much, which definitely makes it worth the money for me! Full review to come once I've used it for a longer period of time because it's not even been two weeks yet.
Dr Jart Water Fuse BB Cream - Boots - £18 (Currently £12)
This was a total impulse buy as it was next to Hydraluron and had a third off! I'd eyed this up weeks before and liked the way it looked on the back of my hand but didn't feel the need to buy it there and then. I'm glad I didn't because it was only £12 instead of the usual £18. This BB cream is quite well suited to my skin because it isn't drying and I've worn it a couple of times since but can't make up my mind on how I feel about it and the whole BB concept. Again, there's a full review to come once I've worn this and fully made my mind up on it.
Boots Derma Care Daily Moisturising Cream - Boots - £3.89
I didn't realise Boots did their own range for dry/sensitive/eczema prone skins which is found in the pharmacy section. Even though I love a good scented cream for my body, I do like to have an unscented cream for when I don't fancy all the extra fragrance. Also I thought this would be great for my wintery dry elbows and knees or other dry patches but I've actually found it works well as a foot cream as well. This is quite heavy with a similar texture to a body butter but they also do a light version if that's more your thing.
Bobble Bottle Filter in Magenta - Boots - £7
I love my Bobble bottle! I carry it everywhere with me and drink from it constantly when I'm in the house so I don't mind having to buy new filters every few months to keep the water tasting fresh. Bobble bottles filter tap water as you drink it so you don't get the off taste that some tap waters have - the water in my area tastes like chlorine yum.
Urban Decay Primer Potion in Eden - Debenhams - £15 (Currently £13.50 online)
I'd wanted this for ages but had never gotten round to buying it. I've had my original bottle of primer potion since 2009 and it's still going strong even though I always use it to stop the excess oil on my eyelids making my eye shadow crease. The Eden formula has yellow based, skin tone coloured pigments that will conceal any discolouration or veins on your eyelids before using eye shadows, which is a great idea for people like me who have visible veins but need a good primer.

However this is a little tricky. So far I haven't had a chance to probably try this out with a proper eye shadow look but when I've worn it alone it always creases. I've read reviews which say you need the tiniest amount to stop that but I'm still not getting the hang of it. I definitely need to give this a proper go so once I figure it out I'll review it and if my final opinion is negative I'll probably sell it on eBay and try something else.
I'm really excited for the Easter holidays so that I can do a complete blog design overhaul! Also I can't wait to get loads of reviews posted and sort out my 50 followers giveaway.
Love Georgia xxx