I'll admit,
I'm not fully on-board with BB creams
. I was quite intrigued when I first seen them emerge on YouTube and blogs a couple of years ago but
I've only just got round to trying one now
. Over the last year every brand seems to have released their own version of a BB cream so there's a lot to try!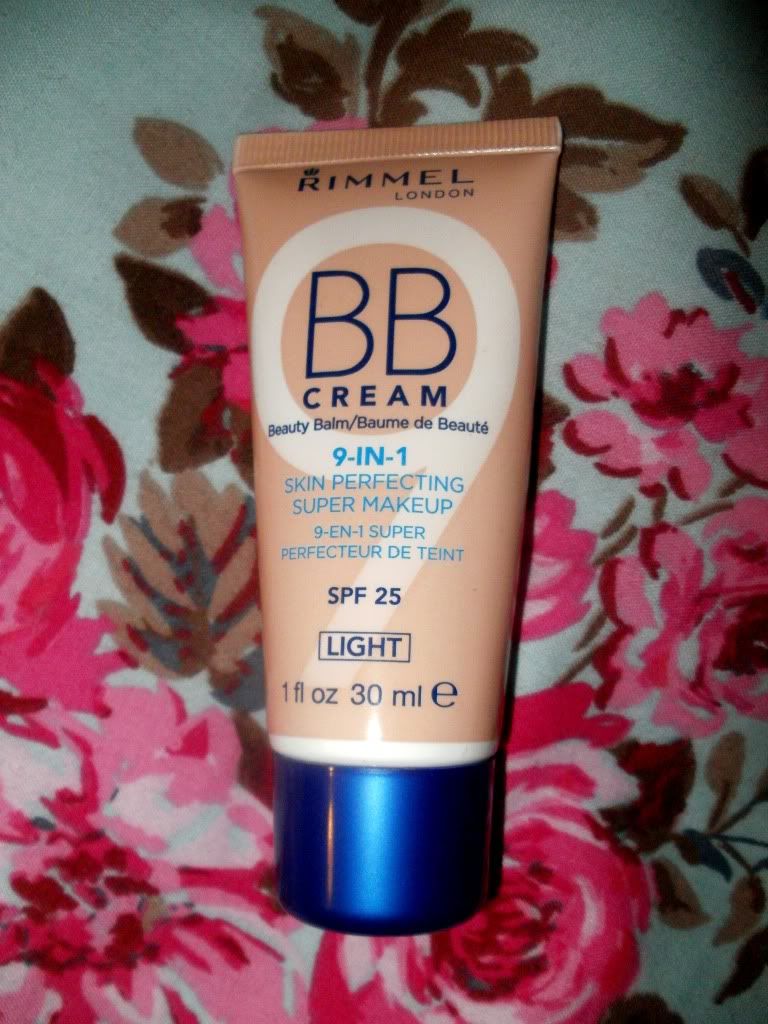 My first impression of this
Rimmel BB Cream 9-in-1 Skin Perfecting Super Make Up
was confusion from all the different claims it makes:
Primes, Moisturises, Minimises Pores, Conceals, Covers, Smoothes, Mattifies, Brightens and helps Protect
. Wow what a mouthful.
When I first went to apply it to my face with my fingers I noticed
the colour wasn't as light as I'd expect from a 'light' shade
. I have Rimmel's 25 Hour Foundation in the lightest shade Ivory and I have the same problem, where the colour inside doesn't match my skin at all or the colour name! My skin's pale and yellow toned but I can work with most neutral tones, for reference. The colour difference in the BB cream doesn't look as noticeable when I worked it into my face but not perfect. From what I've seen of Asian BB creams, they usually adapt to the skintone when applied.
The other main thing I noticed when I first applied this was how
dry it felt
. It comes out like a liquid foundation but once you start to apply it, it starts to dry and settle and sometimes quite unflatteringly. Personally
I prefer my foundations and tinted moisturisers to be liquidy
so I can blend them in easier and I find it hard to work with anything that dries quickly, especially with a heavier feel like this. I didn't like applying this at all.
It dried heavily on top of the skin
before I had a chance to work it in and looked
cakey but without heavy coverage
. I tried adding more to my cheeks because they're naturally quite flushed to see if the coverage was build-able and I thought it didn't look too bad but it wasn't very good at covering redness. I think if you wanted to cover up problems on the skin like spots and redness, you would be better off with a regular foundation or using a concealer for those problems.
This also
claims to mattify the skin
, which isn't something I usually look for in a product because my skin doesn't overproduce oil except on my eyelids. Although parts of my skin looked drier than before and quite cakey,
I still was quite shiny
so people with oilier skintones may have to set this with a powder if they don't like that look.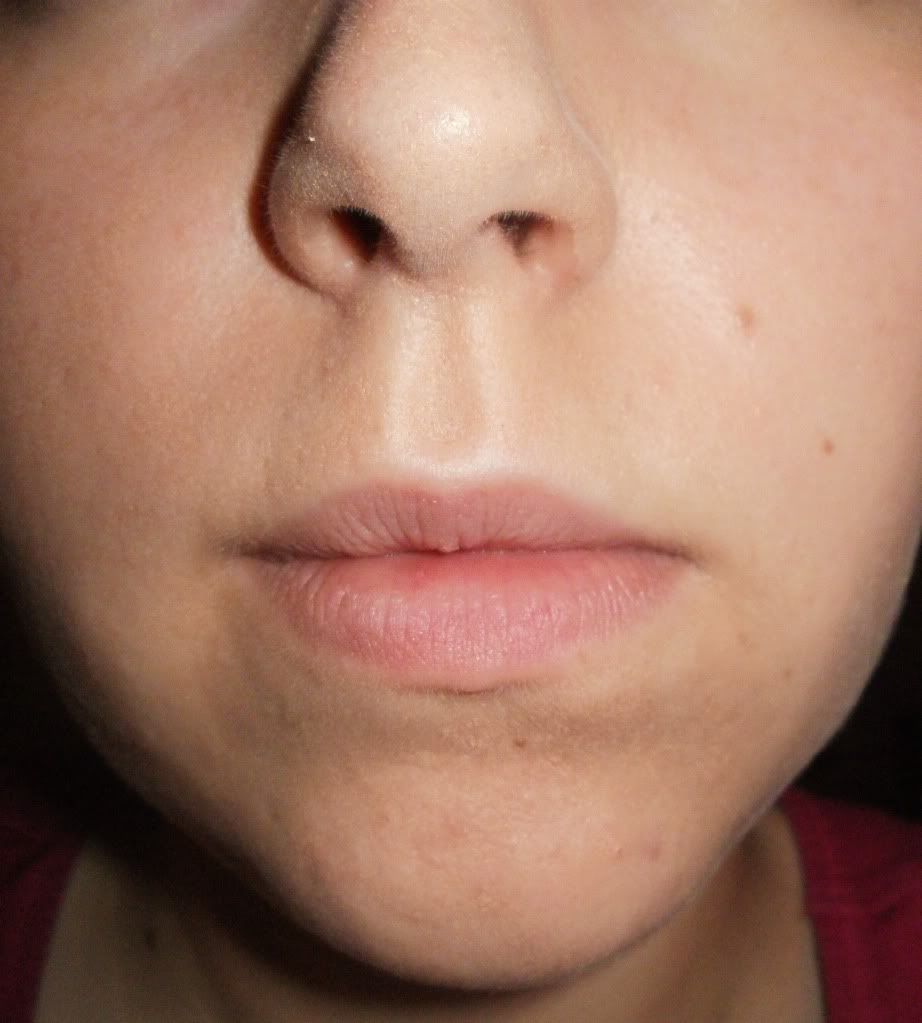 An example of how this sits on top of my skin. Click for the close up to see the full horror!
This
didn't work too well with the drier patches on my face
either. The scales (attractive!) on my nose and chin looked dry even with moisturiser underneath straight after application. I applied the moisturiser before to help the BB cream have more slip and to try and stop it clinging to dry patches. Rimmel and other companies that make BB creams claim that they can be worn alone or under foundation as a base, however
I would not wear this under my foundation
because it has
no apparent benefits for my skin
, it's cakey, not a good colour and highlights my dry spots.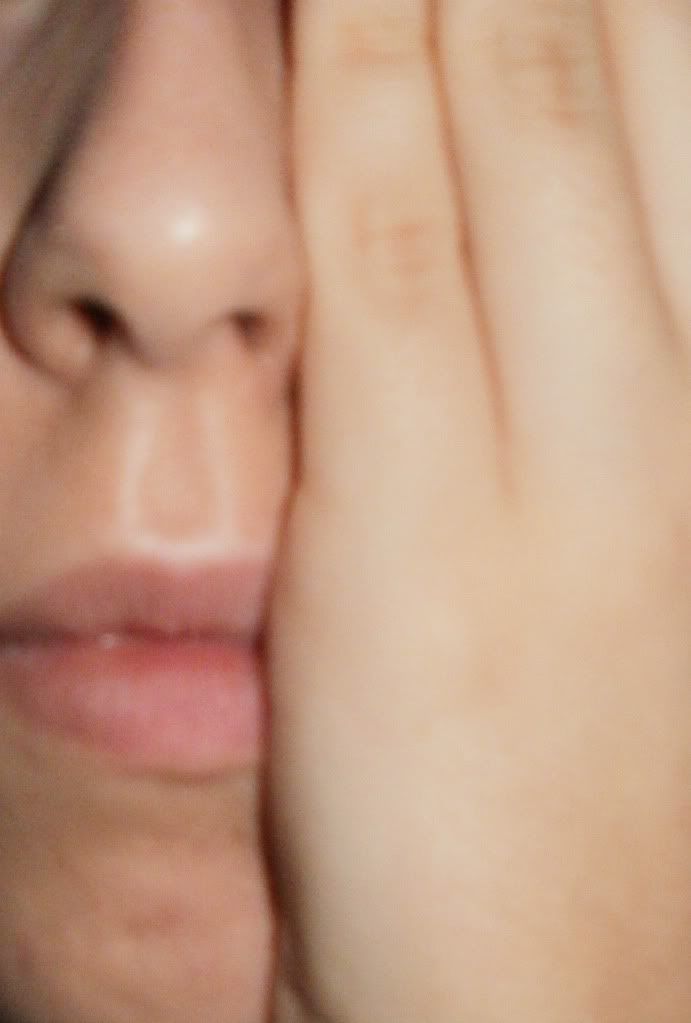 The difference in my natural undertones and the ones in the BB cream
I did wear this to work for a short shift to try it out and a few times in the house to test it and it isn't unwearable for me, just a pain to apply and make it look ok.
I don't think this is a BB cream for dry skins
and
maybe it could work better on oiler skin types
. After I first tried this I read a few reviews online to see what the general thought about this product was and
I found lots of favourable reviews so I suppose it's all about personal preference
.
Rimmel BB Cream in Light - Boots - RRP £6.99 Offer £4.99*
Love Georgia xxx
Disclaimer:I received these products as I am part of the Boots product testing panel. Some products are sent for me to try as they fit the profile I have given, and others I can apply to try. Boots receive these products from brands that are available or about to be available in Boots stores so that the panel will try them out and review them on Boots.com. Panel members don't receive financial compensation or incentives for reviewing the products online. I have chosen to share these products on my blog as I feel the reviews I post for Boots would be relevant for readers of this blog. I started product testing for Boots before I started my blog. Being sent a product for free doesn't change my opinion of it or of the brand. I was asked to join the testing panel after I posted a number of reviews on Boots.com.