Of all the ELF products I've tried from all of their lines, I'd say the products I like and use the most are their brushes, especially from the ELF Studio line. ELF is a company who only sell online to the UK and even though their prices are really reasonable, it can be scary buying things without being able to try them out or see them in person first so I thought I'd review each of their brushes that I own. I thought I'd start with an obvious choice and probably their most talked about brush - the (flat top) Studio Powder brush.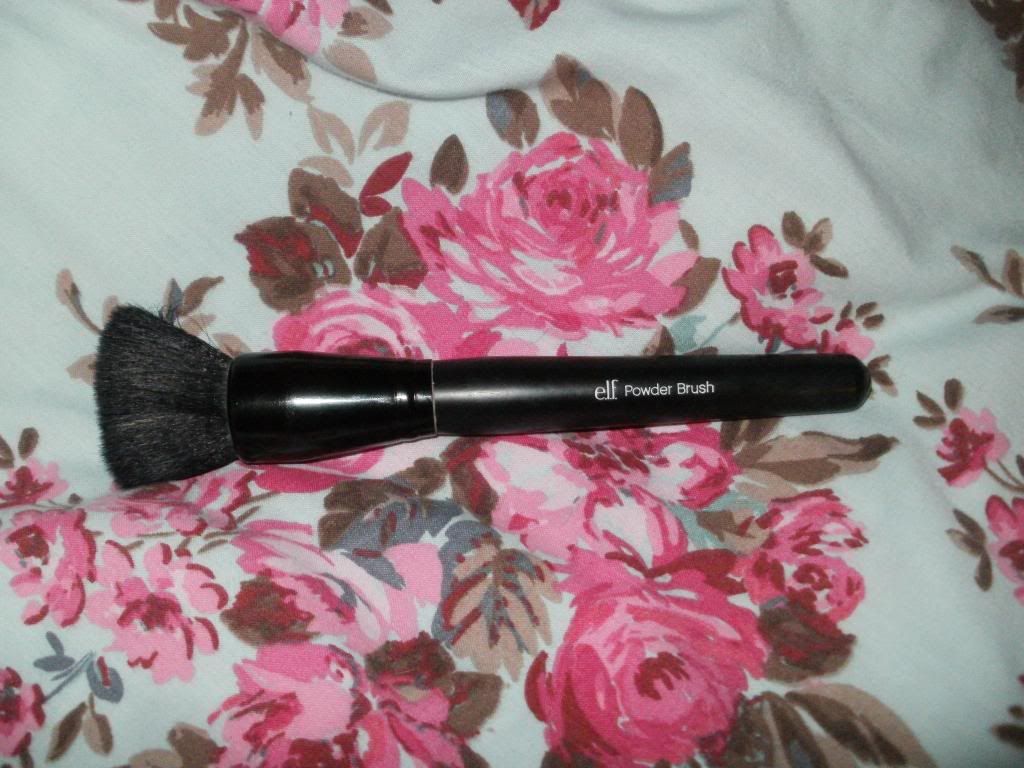 ELF say: "This new anti bacterial, synthetic haired Taklon brush is softer and more absorbent and can be used with wet or dry products. Be a professional makeup artist and create a flawless look with this e.l.f. studio brush! Creates a professional sculpted look. Full coverage colour. Use for powder or blush for perfect contouring".
The name of this brush definitely undersells it as it does more than just apply powder. I've used mine for foundation (liquid and cream), powder (loose and pressed), bronzer and blusher (mostly cream). The flat top and dense bristles make this a great brush for quickly applying foundation while blending it in effortlessly or it's also great for using with heavier foundations. For use with other face products I feel it applies a little heavy handedly and too precise if you're not careful but it's perfect for really pushing powder onto the skin or blending in any face product, especially if you've gone a bit over the top (trying to do a Kim K-esque contour anyone?).
I actually ended up with two of these so I tend to keep one for foundation and powder and the other one for products like blusher. To make sure I don't mix them up and end up with shimmer foundation I put a hair tie on the end of one.
The synthetic hairs are really soft and I haven't had any problem with them shedding from the brush. I've washed mine countless times and it does take a while to fully dry out because of how dense the hairs are. I did have a problem when the plastic bit with the brush head detached from the handle but I didn't lose any hairs and it glued back on. This could have been my fault if I'd washed it and any water had reached the handle and loosened the glue.
For only £3.75 the Powder Brush is a great buy whether you're just starting out with make up or a more skilled user. I love how multi-taking this brush is and the quality is amazing for the price!
ELF Studio Powder Brush - Eyes Lips Face - £3.75
This is the first of my ELF brush reviews. View more of these
here
.
Love Georgia xxx