Sometimes I get stuck in rut and realise that I'm only using a small amount of the products I own so it's good to make an effort to use other things. A lot of the time I buy products to try them out and then prefer to use something else so they just get forgotten about. These are a few products that I'm trying to use more at the moment: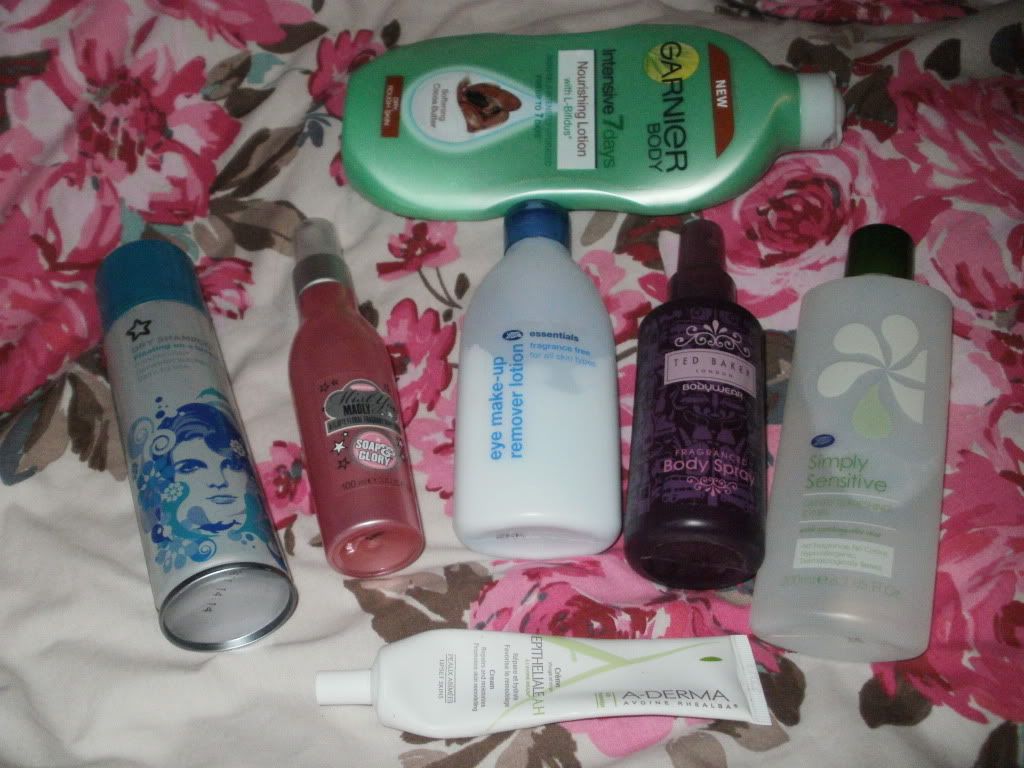 Garnier Intensive 7 Days Body Lotion in Cocoa Butter for Dry and Rough Skin -

Boots

- £4.99
This is my second bottle of this and it is a great product. The cocoa butter smell is delicious but not overpowering and the lotion dries quickly. I've gotten really lazy with applying body lotion lately so hopefully I'll get back into the habit soon.
Superdrug Dry Shampoo in Floating On A Breeze - Superdrug - £1.99
I bought three different scents of the Superdrug dry shampoo because they were 3 for 1 or something and I decided to try something new instead of constantly re-buying Batiste XXL Volume (at one point I ended up with about six back-up cans!). Unfortunately I was disappointed, firstly the Superdrug ones don't absorb as much oil as the Batiste or give the same texture. I also nearly choke every time I spray them, I don't know what it is in these but even the littlest bit in the air will catch my throat so badly that I end up choking for at least a minute. Now I'm down to my last Batiste back-up and I still have a couple of these ones left, I should get these used up and use them to stop myself from going through my last XXL can so quickly.
Soap and Glory Body Spray in Mist You Madly - Boots - £3.50
Another product I have quite a few of. At Christmas I managed to collect 3 of these, two 100ml sized and one large bottle, to go along with the two mini bottles I already own. I love this scent, it's similar to most of the original Soap & Glory products like The Righteous Butter and Clean On Me. I wear this as a perfume but I like it as a room spray too.
Boots Essentials Fragrance Free Eye Make-Up Remover Lotion - Boots - £1.42
When I bought the Garnier Liquid Make Up Remover this got forgotten about. However my eyes get a little dry and sore after using that to remove all my eye make up, even though it says it's gentle enough for it, so I need to remember to use this instead. It's a really cheap, un-fragranced lotion that I just rub into a cotton pad then hold onto my eyes to loosen it all up.
Ted Baker BodyWear Fragranced Body Spray - Discontinued
This is almost a full bottle of body spray so I'm going to try and use it. It's a strange mix of scents so I don't always fancy it but again it makes a decent room spray.
Boots Simply Sensitive Toner - Boots - £2.69
There was a time when I would use this toner after I'd cleansed to make sure I'd gotten every last bit of my make up off and lately I've been too lazy.
A-Derma Epitheliale AH Skin Repair Cream For Damaged Skin -
Boots
- £6.25
I bought this earlier this year, thinking that it would help with dry patches but it's more of a cream for irritated skin. I use this on the palms of my hands when they get itchy but apart from that I don't have much else to use this for.
Love Georgia xxx