I've seen
Pixie Pants
, from
J Crew
, on American YouTubers like
MissGlamorazzi
and on her recommendation when they went to the US -
FleurDeForce
and
Tanya Burr
. I don't own Pixie Pants and because we don't have J Crew in the UK I haven't had the opportunity to see what they're like or try them on but from the way they've been described
I've found a similar type of trousers for a lot cheaper
.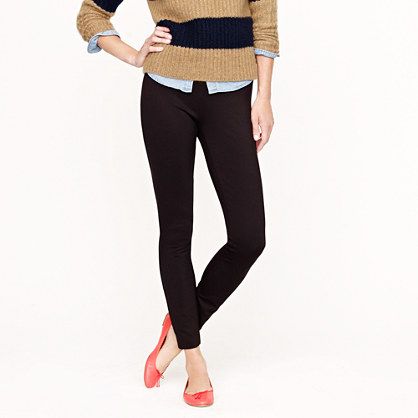 J Crew Pixie Pants are
$88
from their
website
(approx £55) but if you're shipping them to the UK from their site they're actually
£72.82
- sneaky! They are slightly different to the one's I've got below, as these have a zip up the back but the general idea is similar -
stretchy, tight fitting trousers in a heavier but still soft fabric than leggings
.
I bought these trousers about a month ago but Primark should still have them in stores. You could say they're a tregging - a fusion of trousers and leggings but they remind me a bit of jeans as well.
Not the most flattering angle and the grey socks don't help! I'd usually wear these with boots and something loose and longer on top like a jumper
The pair I got are
black
and they're very black in colour (blacker than the picture) and
thicker than leggings
. They're also
not see-through like leggings
and
don't let the cold in
as much as the thin type tend to. They fit very
tight to the skin like leggings
and are made of a
stretchy, soft, thick cotton fabric but not the same feel as jeans
.
These remind me of though jeans because they have
belt loots, a button and zip and pockets on back while still being tight
. I love them as well because like leggings they
tuck perfectly into boots
, unlike most skinny jeans which crease up. I've also worn these to work, with ankle boots because I prefer them to average work/school type trousers and they don't look too casual.
Gemsmaquillage on YouTube recently hauled a bottle green pair and mentioned a maroon/berry colour so Primark must be selling them in different shades so they're a great way to be on trend without investing too much money. I bought mine in my normal trouser size at the moment, especially in Primark where I find their bottoms don't have a lot of room in the thighs and hips when compared to shops like New Look. My waist, where I like the tops of trousers and jeans to sit, is proportionally smaller than my hips so most trousers and jeans tend to be a bit loose so I like being able to wear a belt and these have belt loops and stretchy jeans and trousers are a must. The one problem I've had with these trousers is they tend to want to sit on my hips rather than my waist but that's probably my shape. These are also quite stretchy and cling in a good way.
They're great for winter and so much better than wearing leggings as trousers, much warmer and you don't see your underwear through them!
Overall for £9 these are so handy and can be found in the jeans section of Primark.

Love Georgia xxx
*And a bonus picture of
Bertie
, my puppy. Look at his furry little face!