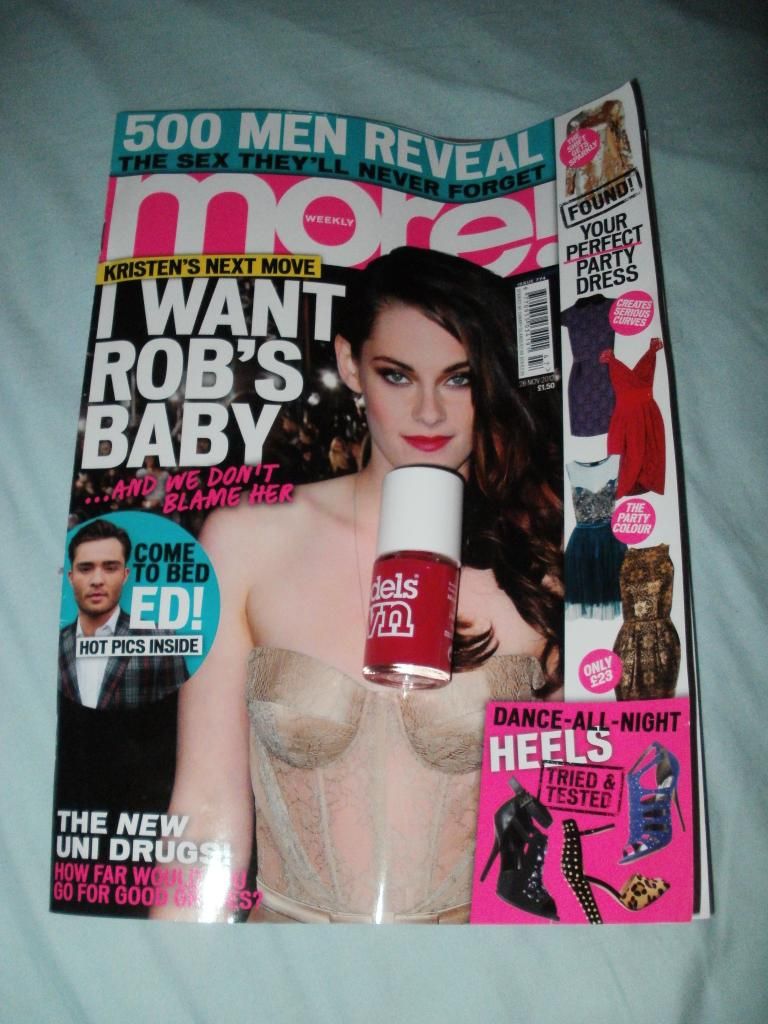 I've been buying More magazine weekly for the last 3 weeks because I'm hoping to examine and discuss it in my dissertation. So just imagine my joy when I saw that More were offering a free gift this week, which you don't get a lot with a weekly magazine! There's a choice of two different Models Own nail polishes or lipglosses but my Superdrug only had one colour of each so you may have to search for the other colours. I don't know the names of the lip glosses, and I've haven't any of their make up products as of yet, but there looked like there's a pink and a coral colour available to anyone who fancies them.
I fully recommend Models Own nail polishes so this is definitely a good deal
. Their polishes have a great consistency and formula and because they're usually £5, you're
saving £3.50 per polish
by getting the magazine for
£1.50
!
The colours on offer are
Raspberry Crush
which is the colour I chose. I haven't tried it on my nails yet but its a raspberry pink, cream finish. The other colour is
Nude Beige
, which I resisted getting when I saw it on another copy of More in Boots later because it reminded me of
Accessorize Fudge
that I already own.
The main story on the cover made me laugh too.
I doubt very much that Kristen desperately wants to have R-Patz's baby imminently
and this is the perfect example of the crazy, old fashion representations of women in these awful magazines. But hey, atleast I got to enjoy the
'Come To Bed Ed!'
feature.
Chuck Bass or not, he's a bit of a dish!
Love Georgia xxx