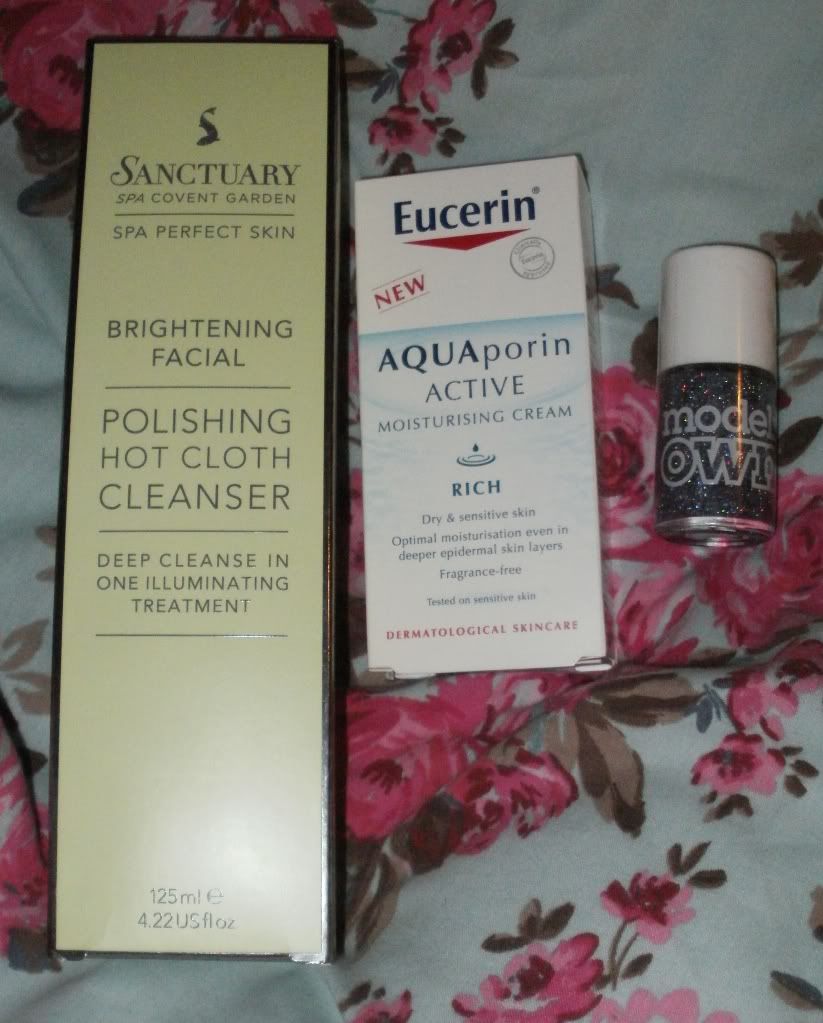 Sanctuary Polishing Hot Cloth Cleanser
My
Liz Earle Cleanse and Polish
is just about to run out and I found it very similar to this Sanctuary one so I decided to
buy it for the 3rd time
. I'm going to try it out again, because I liked it so much the previous times, and write a review for it. It's a couple of pound
cheaper than the Liz Earle and you get 25ml more
when compared to the 100ml bottle. Sometimes Boots even give out vouchers for £5 off Sanctuary skincare, which makes this even more of a bargain.
Eucerin AQUAporin ACTIVE Moisturising Cream Rich
Again my
Eucerin Dry Skin Relief Face Cream
is also coming to the end so I wanted to picked up another while the 3 for 2 was on. When I got to Boots they didn't have any in stock which is understandable as it is a great product for dry skin that I've seen results with (review coming soon). In the end I decided on this one after chatting to the sales assistant about the range. This cream is similar to the previous one I had but it uses new formulas to help rehydrate the skin. My face isn't dry all over but I have dry, flaky patches and my skin can be quite sensitive so I like to go for products which are going to keep it hydrated.
I'm excited to see if this is as great as it sounds.
Models Own Nail Polish in Southern Lights (Wonderland Collection)
I don't even feel like I need to explain this one - it's just beautiful. I think the 3 for 2 at Boots is separate for make up products and skincare, haircare etc. so my friend was getting two make up items and I was getting two skincare so I chose an extra make up item and she chose a skincare item. I seriously looked on every make-up stand that was included for a more useful product than nail polish but there was seriously nothing that I thought was worth buying and the new Rimmel releases were either sold out or had been opened. Back to the polish, it's a beautiful multicoloured glitter with a sheer purple base.
I haven't gotten around to using it yet but I'm sure I will soon. I love it when great nail polish can really brighten up your day, especially during busy times at university/school/work.

The Boots website still has the 3 for 2 offers listed but I don't know when they run until. It's always a good reason to go and stock up or treat yourself!
Sanctuary Polishing Hot Cloth Cleanser -

Boots

- £10.20
Eucerin AQUAporin ACTIVE Moisturising Cream Rich -
Boots
- £13.50
Models Own Nail Polish in Southern Lights (Wonderland Collection) -
Models Own
- £5
*Unable to find a link to this on Boots.com*